Jay McIntyre Photography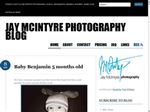 Blog Posts
It's been a good ride on Dec 13, 2012 in UncategorizedFor the past few years I've thoroughly enjoyed blogging with this wordpress blog.  The interface and presentation has been enjoyable and very user friendly.  I've recently moved my website to a new hosting platform and with it I can now...
Two Adorable Sisters on Dec 4, 2012A couple of years ago, I photographed the the very adorable newborn Neve along with her sister Chloe.  Well I had the chance to photograph them again.  This time a friend of the family hired me to do some portraits as a Christmas present, so there...
At The Lonely End Of The Rink on Nov 24, 2012On Friday I was so pumped up about shooting at night after posting about it, I had to get out again.  Myself and a couple of other photographers got together and headed out.  We started at a park just south of the Danforth where, we stumbled on an...
Underpass Park – Toronto Development on Nov 22, 2012I got out last weekend to do a bit of night shooting.  If you follow my blog, you know that Toronto at night is one of my favourite things to photograph.  Last week we got down to Underpass Park, part of the waterfront development plan here in To...
Justin and Camellia Wedding – Toronto Wedding Photographer on Nov 9, 2012Remember Justin and Camellia. What a beautiful day for a beautiful couple. Justin and Camellia celebrated both a catholic and a Baha'i ceremony. This was my first time witnessing a Baha'i ceremony and it was beautiful. The ceremony is a s...
Toronto Street Shooting Photowalk on Nov 8, 2012Yesterday, I got the chance to go out on a photowalk with more than 20 other great photographers.  Here are a bunch of images that I grabbed, as you'll see, we found a lot of skaters. It was really cool to bump into my old friend Taha on the w...