Toronto, Dance!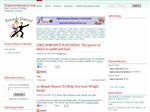 Blog Posts
Flamenco Superstar LA LUPI at Ryerson Theatre Saturday October 19, 2013 on Oct 13, 2013 in Festival, FlamencoThe Toronto International Flamenco Festival is back with a week long celebration of the Flamenco arts, including dance, guitar, and singing classes, live performances, and even a film series. The highlight of the Festival will be the Toronto debut o...
NY Export: Opus Jazz at HotDocs Thursday October 10, 2013 on Oct 8, 2013  NY Export: Opus Jazz will be shown in Toronto at the Bloor HotDocs Theatre on Thursday October 10th at 9 pm for ONE screening ONLY! Shot on location in New York City and starring an ensemble cast of New York City Ballet dancers, NY Export: Op...
Can Dancing Heal? on Sep 29, 2013 in MiscellaneousDance give us plenty of room for self-expression and can be powerful in helping the body and mind to be stimulated. It's all about movement and music and you. This is one thing everyone agrees about: Dance is beneficial. It's exercising without ...
Bus Stop 'Dancing Queen' Lands Job After Video Goes Viral on Sep 17, 2013 in MiscellaneousVideo News by NewsLook Ellie Cole was recorded dancing at a bus stop and the video went viral. Now, she'll dance in the opening of "Ah Men!" at The Point theater.
How Does Dancing Result In Weight Loss? on Sep 15, 2013 in MiscellaneousImage: Getty Dance is an art form passed down by our ancestors that has evolved with time. Primarily used to tell stories, express emotions or as an act of religious ritual, dance has now moved on to elaborate moves in tandem with complex rhythm and&...
VIDEO: Dancing with the Stars Season 17 Cast Revealed! on Sep 3, 2013 in Season 17 of Dancing with the Stars brings celebrities you only thought you forgot about to strut their stuff on the ballroom floor. We give you the 14 names who will have their chance to dance. Thanks for checking us out. Please take a look at the...