SolOrwell.com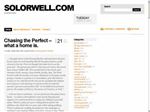 Blog Posts
Carving out your own niche, bit by bit. on Aug 12, 2013 in ManagementSo we've had a fun 3 weeks. Our S-G Reference keeps selling, our traffic keeps growing, and things look good. My biggest fear is that we forget that while we know stuff, there is a lot more we don't know. A nice problem to have. But not w...
Dr. Oz: this is too funny not to mention on May 26, 2013 in UncategorizedOver on Dr. Oz's blog, a post went up late last week titled: You Wanted to Know: Sweeteners. For those that follow Eaxmine.com, you know that our viewpoint is that sweeteners are fine for you (note: just because something is not "bad̶...
Big week for Examine.com and why I do what I do on Apr 27, 2013 in Making the Monies, Sweet 2.0Big Week for Examine.com Last week, Examine.com announced its Human Effect Matrix, which "solves over 90% of supplement confusion." The response was staggering, to say the least. Some quick numbers: 100,000 visitors over baseline (so e.g.
TNation and what their users (literally) "like" on Apr 7, 2013 in UncategorizedSo this past week, Kurtis and I got an article published on TNation, titled New Uses for Creatine. We basically summed up some 101 on creatine (it works, it's safe), and then talked about interesting research being done using it (neurological,...
So Good They Can't Ignore You on Mar 31, 2013 in Fitness, Management, Ranting and RavingExamine.com continues to grow, and is slowly becoming the juggernaut I always wanted it to be. The reality though is that none of this was happenstance. It's been two years of solid grinding – reading, writing, editing, connecting, respon...
Confirm confirm confirm (vs undo) on Feb 8, 2013 in Uncategorized"Confirm X action?" A quick little complaint, but confirming every single action (particularly during deletions) is a slow and cumbersome UI approach. The smarter approach is to let the user do it, but then let them undo it. Is it more wo...