Canadian Restaurant Tax Advisor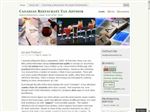 Blog Posts
20,000 Visitors! on Jul 9, 2012I started writing this blog in September, 2009.  At that time, there was very little useful information about restaurant tax audits in Canada (or anywhere).  In the 42 articles that I have written so far, I have tried to fill this gap with practica...
Taxing Tips on Jul 8, 2012It was kind of fun trying to come up with a decent headline for today's article.  Tips are in the news a lot, lately.  Servers, and others who receive tips, don't like handing out a portion of their tips to other co-workers and especial...
Percentage Discounts on Jun 20, 2012A few months ago, Dining Date Night began offering customers a 30% discount at various restaurants in Toronto.  In order to get the discount, a customer books a reservation on a website and pays a $10 fee to Dining Date Night.  When the customer vi...
Groupon Taxes on Jun 19, 2012I've written a couple of articles about Groupon on my sister blog, Canadian Restaurateur.  This is part of a series that will cover accounting for Groupon certificates, setting up your Point of Sale (POS) system to properly track coupons and d...
Who's Responsible? on Jun 6, 2012 in TaxesI had an interesting conversation with a restaurant owner the other day.  We were discussing tax audits and he mentioned that he wasn't worried, because his accountant had signed off on his financial statements.  He thought that his accountan...
Proving Automobile Business Use on Jun 5, 2012Many restaurant owners use their automobiles for picking up supplies for the business, researching other restaurants, and making trips related to the restaurant's operations.  In Canada, individuals are able to claim a reasonable portion of th...