Canadian Restaurateur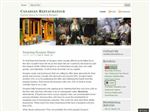 Tags: restaurants, profitability, restaurant operations, restaurant accounting, restaurant theft, restaurant inventories, restaurant margins, planning, business
Subscribe:
Blog Posts
Targeting Groupon Diners on Jun 25, 2012If I had been the founder of Groupon when Google offered up $6 billion for it, the door wouldn't have hit me on the back-side as I rushed to the bank to cash the cheque! While I think Groupon is an interesting concept, they are really greedy, a...
QuickBooks Accounting for Groupon on Jun 20, 2012I'm almost finished with Groupon articles!  I've got two more, then, I think we're done.  I've been writing these articles, because there is a lot of confusion surrounding the accounting for Groupon certificates and how to e...
Groupon POS Implications on Jun 19, 2012This is the second article in a series about Groupon coupons for restaurants.  The first article covered accounting for Groupon transactions.  This piece covers how to set up your Point of Sale (POS) system to record redemptions of coupons.  Faili...
Accounting for Groupon Coupons on Jun 18, 2012While I'm not a fan of Groupon coupons, at least for restaurants, I felt compelled to write a few articles about it.  Today's piece covers accounting for Groupon coupons, because I've seen some really weird accounting recommendatio...
How to Compare Your Restaurant on May 27, 2012It is almost impossible to compare a restaurant's operations with industry averages.  Organizations like the CRFA aggregate the smallest mom-and-pop with the largest chains to get their averages.  Not many restaurants are "average"...