Toronto Prediction Market Blog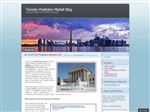 http://torontopm.wordpress.com
A professional blog that critically reviews significant prediction market issues. Essential reading for anyone thinking of implementing prediction markets to forecast future events, outcomes and metrics.
Tags: prediction markets, information markets, economics, uncertainty, efficiency, decision markets, forecasting, planning, business
Subscribe:
Blog Posts
SCOTUS Prediction Markets Fail on Jun 27, 2012Today, the Supreme Court of the United States handed down its ruling on whether parts of the Affordable Care Act were constitutional.  Various sites had set up prediction markets to try to predict how the SCOTUS would rule.  I looked at a few of th...
Good Judgment Project Round 2 on Jun 18, 2012Well, the Good Judgment Project has started up for the second season.  Again, we will be predicting events around the world.  Last year, my group used a modified prediction market.  It was a bit unusual, because you could rescind earlier predictio...
Predicting Facebook's Closing Price After The IPO on Jun 14, 2012This is the second article about predicting Facebook's closing share price after the IPO.  The first article, Not So Intelligent Collective Intelligence, examined an attempt to access the collective intelligence of a crowd, through a poll.  T...
Not So Intelligent Collective Intelligence on Jun 13, 2012If you have read James Surowiecki's book, The Wisdom of Crowds, you know the story of Galton's Ox.  Early in the 1900s, a live ox was put on display at a county fair.  People were asked to guess the weight of the ox, once it had been bu...
15,000 Visitors! on Mar 16, 2012It has been about three years since I started writing this blog and it has finally reached 15,000 visitors.  I have to thank Chris Masse of Midas Oracle for re-posting many of my articles and providing helpful comments.  Initially, I was very optim...
Status Quo Predicting on Mar 14, 2012If you've been reading my blog, you know that I am taking part in the Good Judgment Project, where a number of us are predicting future world events.  Now, I wouldn't consider myself to be all that knowledgeable about world events, but I...