The Practical Economist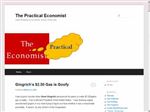 Blog Posts
Gingrich's $2.50 Gas is Goofy on Mar 14, 2012 in Microeconomics, Capitalism, DebtI had a good chuckle when Newt Gingrich announced his plans to make $2.50/gallon gas a reality…if he is elected President of the United States.  I was drawing supply and demand graphs in my mind trying to figure out how … Continue readin...
The Fallacy of Economic Estimates on Jan 3, 2012Here's the followup piece to The Fallacy of Economic Estimates, written in August, 2011.  This was originally published on my Toronto Prediction Market Blog.  Enjoy.  Note that there are a couple of significant implications.  One, when Pres...
The Fallacy of Economic Forecasts on Jan 3, 2012I'm cross-posting this interesting post I wrote back on March 12, 2009 (on my Toronto Prediction Market Blog): Economists are too well-known for their wild forecasts of future economic conditions.  Just today, I reviewed the Economists' poll...
Hidden Debt Problem – Part 2 on Jan 3, 2012My last post discussed the accumulation of "hidden" debt related to the lack of maintenance of infrastructure assets, like roads, water mains, sewer, etc…  It's a real problem, and the magnitude is in the range of 50% –...
The Hidden Debt Problem on Jan 2, 2012 in Economics, Macroeconomics, Debt, InfrastructureU.S. politicians have been squabbling about debt levels for the last six months or so.  Republicans are dead set against increasing the level of debt, even though they were responsible for most, if not all of the current debt.  Democrats … Co...
A Christmas Story on Dec 29, 2011 in Economics, Jeffrey Sachs, Macroeconomics, Michael Spence, Paul KrugmanI just had to pass on this heartwarming Christmas story.  Enjoy. From across the room, all could see that he had been excitedly, yet patiently, waiting to start opening his Christmas presents.  Finally, it was his turn to open a … Continue re...