100 mile finds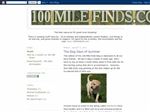 Blog Posts
Back to School..... on Aug 15, 2013Dare we start? I personally prefer to hang on to every last moment of the freedom. Our kids are old enough to fend for themselves a bit more, so there really is liberation without the routine. Alas, the days pass, and September is i...
The Dog Days of Summer on Aug 1, 2013This edition of the 100 Mile Finds blog is dedicated to all our furry friends. We got a dog a couple of years ago, and I have to say at times I would rather sleep in than take her for the morning outing that she is accustomed to. However,...
Local Skin Care on Jul 18, 2013I had a bar of Soap Utopia Naturals soap in my powder room, and it is kind of surprising how lovely it fills this small room with a natural scent. Not overpowering like canned air fresheners or the decal you hang from the rear-view mirror.&nbsp...
The Harvest is Here on Jul 4, 2013Have you had any local strawberries yet?? They taste SO good. And that colour - you can only get it if they are picked ripe (therefore not shipped too far). We have a tendency to go a little crazy with seasonal stuff in our house. I...
School's Out (soon) on Jun 20, 2013Ahh, the beginning of summer. I can still remember the eager anticipation of long summer days when I was a kid. At the end of June, September was a world away. Most of us don't have the luxury of the whole summer off, but I still th...
Heirlooms Artisan Market on Jun 6, 2013Heirlooms Artisan Market promises a perfect afternoon strolling through the picturesque greenhouses of Vermeer's Garden Centre. Quality and craftsmanship are guaranteed from our carefully selected group of outstanding artisans. We...