Toronto Wedding Photography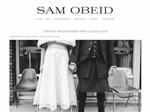 http://samobeid.com
Real Weddings Real People - The wedding photography blog of Toronto Photographer Sam Obeid
Blog Posts
Toronto Wedding Sneak Peek | Priya & Adam on Oct 7, 2013 in WeddingJust a little sneak peek of Priya & Adams Toronto wedding in the Heritage House at De la Salle College Oaklands. Loved this wedding!The post Toronto Wedding Sneak Peek | Priya & Adam appeared first on Sam Obeid - Toronto Wedding Photographe...
Toronto Engagement – Kristin & Mike on Oct 2, 2013 in EngagementKristin and Mike found out about me through Liz (and Kordan) a past couple of mine and still one of my all time favourite weddings. They picked downtown Toronto for their engagement session, close to their new home and workplace. We even had access t...
Personal | Another Girl! on Sep 30, 2013 in PersonalIt's been four weeks since our daughter Olivia joined our family. We're now a family of five and complete. Third time around and it's still amazing experience. Dr. Arthur Zaltz and the rest of the staff at Sunnybrook hospital were wonderful. I&...
Mississauga Wedding Stephanie & Rob on Sep 18, 2013 in WeddingI've been knee deep into weddings and my wife and I just had our 3 child on September 3rd. Needless to say I'm busy so I'm behind on blogging my shoots. Here are some highlights from Stephanie and Rob's Mississauga wedding. Th...
Engagement | High Park | Selena & Ben on Aug 26, 2013 in EngagementI always tell couples that they will feel a little awkward for the first few minutes of an engagement session. I also pride myself in being able to get couples to relax and not worry about people watching or how odd a certain pose may feel. So it's...
Toronto Wedding | Heintzman House | Emily-Jane & Kevin on Aug 6, 2013 in WeddingI'm quietly writing this from my hotel room in Halifax with my wife and kids sound asleep behind me. We're here for my wife's sister's wedding and I'm looking forward to not having a camera in my hand and just being a gu...