realia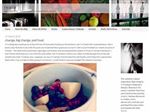 http://www.jensrealia.typepad.com
Realia is about finding stories and inspiration in a big city. I believe the world is a more beautiful place when more people tell their stories. Through my blog I hope to show that inspiration is everywhere, you just have to pay attention.
Blog Posts
change, big change, and food on Mar 16, 2013I'm sitting here looking out at the millions of diamonds floating on the harbour and I'm filled contentedness. I don't know what that has to do with this post, but it seemed like a good way to start it. We've just finished our weekly brunch o...
stove light on Jan 26, 2013It's deepest, darkest winter. Technically it's not the darkest winter; that went by a month ago and I am starting to notice the longer days and I'm grateful for that. But it's deepest, darkest winter in that there are months of it behind us and...
where I'm at – because I haven't been here on Jan 20, 2013Happy New Year. Yeah, I know, it's closer to February than it is to the new year swing over, but the break was intentional. Sort of. After the year of daily posting "rules," which I didn't stay true to in the end, I did what I have done upon...
christmas and the far is brought near on Dec 24, 2012Christmas Day with my family at Jeff and Carol's, and as always they lay on a fabulous spread and make us feel warm and welcome. Some of us were far away, in England, Alberta and USA. But, at one moment, we've got Ontario, Edmonton and Washington all...
lights on the city on Dec 18, 2012I don't take a lot of pride in working on Bay Street. I don't work for, or associate myself with the suits that surround me on the sidewalks every day. I despise the big banks that own the area, who happen to be among the richest companies in Canada...
seeing lights on Dec 17, 2012When I was a kid we put up our Christmas tree on or around my sister Jane's birthday on the 19th of December. Happy then over the holidays I would sit in the family room with its green shag carpet and turned down lamps and temporary pine smell, and s...